We're All In – #fixthegap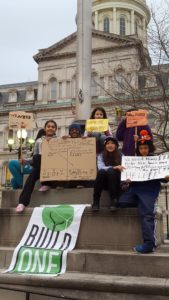 Monday night, nearly 1000 BUILD leaders, principals, teachers, parents, students and Baltimoreans for Educational Equity (BEE) allies gathered at City Hall to send a strong message that we would not settle for a $60 million solution to a $130 million problem, and that all stakeholders needed to continue to work together to prevent budget cuts at the school level. We did this.
Read more here: http://www.buildiaf.org/site/wp-content/uploads/March-20th-Action-Update-and-Next-Steps.pdf
Next steps – we are still $30m short of a $130m solution!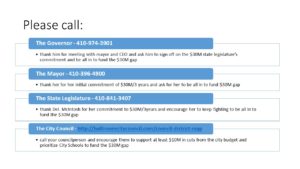 Latest News & Updates
BUILD & Education Coalitions turn out hundreds
On Monday February 27, BUILD stood with 50 principals, over 150 parents and teachers in front of City Hall to demand fixing the $130 million gap between the City school budget and funding. On Tuesday, BUILD brought more than 100 people to the school board meeting to support Superintendent Dr. Santelises in her demand of […]
Metro IAF Leaders Call on Trump's Pick for Atty General to Pick Up a Trowel
"They which built on the wall, and they that bore burdens . . . everyone with one of his hands worked in the work, and with the other hand held a weapon." The Book of Nehemiah, 4:17 "We will keep Nehemiah very much in mind as we begin to test the tendencies of the new […]