July 21st, 2017
Certificate in Community Organizing and Congregational Leadership.
NEXT Church, Johnson C. Smith Theological Seminary, and Metro Industrial Areas Foundation are teaming up to offer a Certificate in Community Organizing and Congregational Leadership.
This certificate program consists of a one-week intensive in-person training followed by a 6-month distance learning cohort to integrate the training into your work. The in-person training will take place October 23-27, 2017 in Baltimore, MD, with the distance learning occurring one to two times per month from November – April (exact dates still to be scheduled). The program is open to clergy, laypeople, community leaders, seminarians, and others interested in organizing and community engagement. Participants must be 21 years old or older to register.
The program aims to
teach clergy and lay leaders to apply the basic universals and disciplines of community organizing to their ministry contexts.
provide tools for those engaged in the work of congregational transformation, new church development, and neighborhood/organizational revitalization.
guide participants in theological reflection about systemic change.
spark leaders' imaginations in the effective use of technology as an organizing tool.
nurture participants as they establish for themselves new patterns of leadership.
connect leaders to an established support network.
The total cost of the program is $750.00 plus travel, room, and board. The $70.00 registration fee will be applied to the total program cost. All available scholarships have been awarded.
The deadline to register for the program is October 2, 2017. Full payment of the program fee is due October 20, 2017. For more information, please visit the NEXT Church website.
Please register at https://www.eventbrite.com/e/certificate-in-community-organizing-and-congregational-leadership-tickets-35408974195
Posted in News | No Comments »
June 30th, 2017
On June 7, BUILD, along with the No Boundaries Coalition and the Baltimore Youth Organizing Project (BYOP), won the restoration of $2.58 million in cuts to Baltimore City after-school and community school programs.  The BUILD One Baltimore campaign began in 2015 with jobs, safety, and youth program funding demands. Every major Mayoral candidate – including then candidate Pugh – agreed to these demands at the largest Baltimore City mayoral candidate accountability forum in March 2016.
When Mayor Pugh reneged on her promise to retain funding for after-school programs, BYOP, BUILD, and the No Boundaries Coalition confronted the Mayor at a youth-led action attended by hundreds of youth and supportive adults. When she refused to meet demands, we stepped up the pressure by securing unanimous commitment from City Council members to make cuts to the Mayor's budget to force her to restore money to the school budget.
Halfway through the June 7 youth-led hearing before the Council budget committee attended by hundreds, Council President Jack Young announced that negotiations had ended with the Mayor agreeing to restore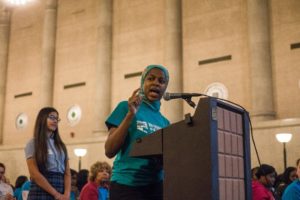 the funding.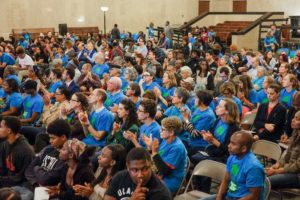 Media coverage here:
http://digitaledition.baltimoresun.com/tribune/article_popover.aspx?guid=91c8ee6e-2037-4439-989e-6a3ff49c7fbe ; http://www.baltimoresun.com/news/opinion/editorial/bs-ed-city-budget-20170606-story.html
https://baltimorebrew.com/2017/06/08/youth-protest-turns-pep-rally-as-council-reaches-budget-deal-with-pugh/
Posted in News | No Comments »
May 10th, 2017
We're All In – #fixthegap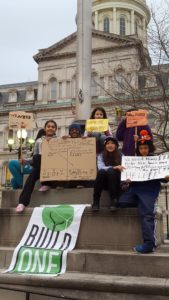 On March 20, 2017 nearly 1000 BUILD leaders, principals, teachers, parents, students and Baltimoreans for Educational Equity (BEE) allies gathered at City Hall to send a strong message that we would not settle for a $60 million solution to a $130 million problem, and that all stakeholders needed to continue to work together to prevent budget cuts at the school level. We did this.
Read more here: http://www.buildiaf.org/site/wp-content/uploads/March-20th-Action-Update-and-Next-Steps.pdf
Posted in News | No Comments »
March 2nd, 2017
On Monday February 27, BUILD stood with 50 principals, over 150 parents and teachers in front of City Hall to demand fixing the $130 million gap between the City school budget and funding. On Tuesday, BUILD brought more than 100 people to the school board meeting to support Superintendent Dr. Santelises in her demand of a March 27 deadline to resolve the $130 million gap. BUILD joins with Baltimoreans for Educational Equity and the Baltimore Education Coalition in calling for a three-year solution to bridge the gap until the Kirwan Commission creates a new funding formula.
http://www.wbaltv.com/article/baltimore-mayor-principals-push-for-more-school-funding/8989687
http://www.baltimoresun.com/news/maryland/education/k-12/bs-md-ci-principals-demand-funding-20170227-story.html
https://www.baltimorebrew.com/2017/03/01/governor-slams-city-schools-and-speakers-hit-back/
Good explanation of the issue here: http://www.baltimoresun.com/news/opinion/editorial/bs-ed-city-schools-20170228-story.html
Posted in News | No Comments »
November 26th, 2016
"They which built on the wall, and they that bore burdens . . . everyone with one of his hands worked in the work, and with the other hand held a weapon."
The Book of Nehemiah, 4:17
"We will keep Nehemiah very much in mind as we begin to test the tendencies of the new administration. Does it want to be rid of the reproach of bulging and costly prisons and jails? Does it want to end the warehousing of young people charged with minor offenses and those with mental illness? Or does it want to maintain these profoundly anti-American policies and ambush those who seek to reverse them?"
Read more from Rev. David K. Brawley Rabbi Joel Mosbacher Rev. Patrick O'connor Bishop Douglas Miles
http://www.nydailynews.com/opinion/trump-sessions-nehemiah-fateful-choice-ag-article-1.2883971
Posted in News | No Comments »
October 21st, 2016
Council advances Port Covington Deal
Click here to read more! Click here for the MOU.
1100+ affordable homes;
tens of thousands jobs with a 30% percent mandate for local hiring;
$39 million for south Baltimore;
$25 million for workforce development;
$10 million for MWBEs;
$10 million for city-wide initiatives;
$5 million for an East Baltimore recreation center;
$2 million for scholarships
See more detail here: BUILD wins historic deal
Background on BUILD's involvement in Port Covington TIF negotiations: http://www.buildiaf.org/builds-involvement-port-covington-tif/
http://www.baltimoresun.com/news/maryland/baltimore-city/south-baltimore/bs-md-ci-port-covington-work-session-2-20160823-story.html
Posted in News | No Comments »
September 11th, 2016
After a hard fought 16 week campaign and two straight weeks of negotiation with Sagamore Development, BUILD joined Sagamore Development, Plank Industries, Mayor Stephanie Rawlings Blake and Council President Jack Young announced an historic agreement that will shift the development paradigm in Baltimore City. When we started this campaign, the Port Covington TIF's citywide benefits guaranteed only $10 million for the city and 100 youth jobs for five years. By the time we finished, we had mandates for local hiring and affordable housing and a $135 million investment into workforce development, education needs, and more. It will help BUILD's job movement, Turnaround Tuesday, put returning citizens and unemployed residents back to work; leverage funding to rebuild blighted communities like Johnston Square, Harlem Park West, Irvington, and many others; and provide recreation, after school programming and youth opportunities across the city. Has everything we went to the table to negotiate been won? No, but significant steps have been taken that create a new development paradigm for Baltimore City. We have a long way to go, but this is an historic start.
http://www.wbal.com/article/187982/124/port-covington-developers-reach-deal-with-city-on-community-benefits
Posted in News | No Comments »
August 17th, 2016
BUILD recognizes Council President Jack Young for encouraging Sagamore Development to reach agreements with us and with labor before the TIF deal is approved.  BUILD wants better – demands Council not move forward until agreements are reached!
"All we have to do is to sit down and negotiate a deal that works for them and works for the city of Baltimore," said the Rev. Andrew Foster Connors, BUILD's co-chairman.
http://thedailyrecord.com/2016/08/04/jack-young-sagamore-labor-agreement/
http://www.baltimoresun.com/news/maryland/politics/blog/bal-young-urges-sagamore-to-cut-deals-with-unions-build-on-port-covington-tif-20160803-story.html
Posted in News | No Comments »
August 3rd, 2016
Port Covington TIF
BUILD & Labor delay vote — Read about the third-largest TIF request in the nation and BUILD's demands here.
BUILD, along with Port3 labor groups, successfully delayed the Taxation and Finance Committee vote on the Port Covington TIF.  Hundreds packed the War Memorial Building room after waiting nearly an hour outside in the heat for the committee to move the hearing to the initially advertised larger space in the building.  Holding signs that read "Stand Up," "BUILD One Baltimore," "Protect OUR House," and "Build It Together," BUILD members cheered its speakers' demands for a community agreement that benefits the WHOLE city, not just a portion, as well commitments (not just goals) for affordable housing, 51% local hiring (all jobs), profit sharing, and protection of education funding for the duration of the TIF.  Read more here from Good Jobs Baltimore.  See media coverage here and here.
Posted in News | No Comments »
August 3rd, 2016
On July 18, BUILD packed the Zion Lutheran Church to hear testimony from Tischler-Bise and Good Jobs Baltimore advocate Greg LeRoy.  Attendees thundered their approval of BUILD's demands for a city-wide community benefits agreement and for the City to conduct its own independent financial analysis.
Read coverage from multiple outlets below:
Baltimore Sun, Baltimore Brew, WBAL TV
Posted in News | No Comments »
« Older Entries