July 13th, 2016
Tuesday, July 12, 2016
BUILD held a press conference in front of UnderArmour Headquarters to call on CEO Kevin Plank to meet with BUILD to negotiate mandates that will ensure the Port Covington development will benefit the ENTIRE city.  BUILD calls on the City Council, Sagamore development, and Mr. Plank to NOT agree to any city-wide benefits agreement without the City conducting a comprehensive independent analysis of the deal.  Any agreement must treat the City of Baltimore as a 'first in' investor with a specified ROI on the TIF investment, including a share of all profit on the project, 51% local hiring on all jobs with clawbacks, an equal investment in affordable housing & blighted neighborhoods, and a written guarantee to hold education funding harmless for the udration of the TIF." Full press coverage is available below, and BUILD's press release can be read here.
Baltimore Sun – pdf version; Press Reader version
Baltimore Business Journal Real Estate Blog
WBAL Radio C4 Show Interview with Clergy Co-Chair Rev Glenna Huber
Posted in News | No Comments »
June 23rd, 2016
Tuesday, June 21, the Mayor and the Baltimore Police Commissioner announced the padlocking of a business under the "public nuisance" statute.
"The Baltimore City Police Department, local businesses and citizens citywide took action together to close down a notorious drug corner that has plagued our community for generations," said Rev. Andrew Foster Connors, clergy co-chair of BUILD.  Read the Baltimore Sun article here.
Posted in News | No Comments »
June 23rd, 2016
BUILD and Child First Authority, together with the Baltimore City Council, won the restoration of $4.2 million in cuts to after school and community school programs.  These cuts would have meant that programs begun after the unrest in April would be ended – a "one time boost" as the budget director characterized them does little to create lasting supports for traumatized children and does not create lasting change.  The City Council and Mayor's office are continuing to negotiate numbers and programs that will cover the cuts.  Read more here and here.
Posted in News | No Comments »
June 10th, 2016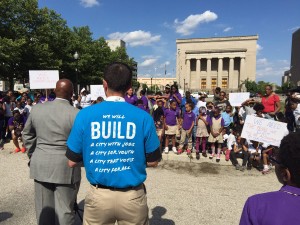 Hundreds of supporters of after school and community school programs gathered in front of City Hall to protest the $4.2 million in cuts to programs that keep children occupied and safe after school.  Read more here: Sun report.
Posted in News | No Comments »
May 27th, 2016
BUILD members attended an informational hearing about Tax Increment Financing, hosted on May 19 by Councilman Carl Stokes.  Read coverage by the Afro here http://www.afro.com/tif-funding-debated-at-baltimore-city-council-meeting/ and Baltimore Brew here: http://bit.ly/1UiHRJd.
Posted in News | No Comments »
May 27th, 2016
April 2016 Mayoral Primary GOTV
BUILD Volunteers –

251

 

Doors knocked –

at least 2,609

 
Calls made –

15,000
We couldn't have done it without our volunteers.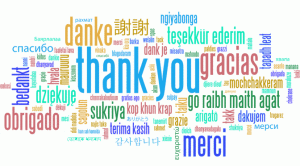 Posted in News | No Comments »
April 27th, 2016
Baltimore Sun article features Charlestown retirement community volunteers at the block party last weekend.  "Residents were inspired at a meeting with [Elder] Harris, founder of Intersection of Change, a nonprofit for the people of Sandtown [and BUILD member organization], as well as representatives of other agencies helping in Sandtown, including BUILD, No Boundaries Coalition, Habitat for Humanity and New Song Academy."
Posted in News | No Comments »
April 6th, 2016
Yesterday, President Daniels, Baltimore Gas and Electric CEO Calvin Butler, and 25 corporations collectively pledged to help put Baltimore back to work in coordination with BUILD and Turnaround Tuesday —see Baltimore Sun Article.
The press conference was held yesterday in East Baltimore at Zion Baptist Church, a key BUILD member institution where BUILD has organized returning citizens and residents living in distressed neighborhoods through BUILD's Turnaround Tuesday initiative for jobs.  In partnership with Johns Hopkins University and Hospital and 23 other employers, Turnaround Tuesday has already placed 108 returning citizens and residents living in distressed neighborhoods in living wage jobs with opportunities for advancement.
BUILD has been and will continue to persistently and relentlessly organize from the ground up to BUILD ONE BALTIMORE.
As reported in the Washington Post article below, Bishop Douglas Miles, BUILD Clergy leader and Co-Chair Emeritus described the announcement as "historic". 
Johns Hopkins leads $69 million initiative to bring jobs to Baltimore after riots
Posted in News | No Comments »
March 15th, 2016
BUILD demonstrates power and commits to making Baltimore a City that Votes at Sundays's Candidate Accountability Assembly action at Coppin State University.  Candidates Dixon, Embry, Mosby, Pugh, Stokes & Warnock spoke to over 700 in attendance and pledged to add 15,000 jobs or more over the 4-year term, as well as 1000 year-round jobs for youth.  Candidates also pledged support for the BUILD One Baltimore election agenda to make Baltimore a city that's safe and a city for youth. See media coverage:
Posted in News | No Comments »
March 1st, 2016
If you need a ticket for this limited seating event, contact your organizer!
JOIN BUILD FOR A MAYORAL ACCOUNTABILITY ASSEMBLY
MARCH 13, 4:00PM ~ James Weldon Johnson Auditorium ~ Coppin State University
Click here for the flyer
Hear candidates respond to your demands for the four year term…
A City with Jobs
Create 15,000 jobs
Employ 1000 youth in year-round jobs
Implement youth summer jobs program with skills training
A City for Youth
Double after-school programs & community schools by adding $8.2 million to the budget
Fully fund rec plan {16 rec centers & 4 outdoor, 6 more pools}
Ensure safe schools for all
A City that's Safe
Station permanent foot posts in the most violent neighborhoods
Train Police officers in community relationship building
Establish constitutional & equitable policing in all parts of the city
Limit gun purchases by the City of Baltimore to manufacturers developing safe-gun technology & distributing to reputable gun dealers
Posted in News | No Comments »
« Older Entries