February 6th, 2016
Sean Closkey, President of TRF Development Partners (BUILD and TRF's development entity), and Pastor Calvin Keene, BUILD Strategy Team describe our successful efforts in continuing to rebuild East Baltimore.  Click here to read the article.
Posted in News | No Comments »
December 16th, 2015
One quarter to BUILD One Baltimore from kindall rende on Vimeo.
After calling on CareFirst CEO Chet Burrell to meet, after marching to CareFirst to demand a meeting, after attending three Health Services Cost Review Commission meetings and testifying with personal stories and professional expertise, the HSCRC worked together to negotiate a small rate increase & hospital contribution to add 375 community health care workers to – and from – distressed ZIP codes across the state, primarily in Baltimore City. Read more here.
Posted in News | No Comments »
November 30th, 2015
Along with congregants from St. Matthew Catholic Church and other faith institutions around the city, BUILD leaders expressed outrage and grief at the 311 murders so far this year, along with other acts of violence.  Calling out businesses, council members, and other faith leaders for their lack of action, and asking individuals to stop and think instead of acting out of revenge or retaliation, BUILD pastors and community leaders also expressed hope.  Read more here from the Baltimore Sun, and ABC2 news overage here.
Posted in News | No Comments »
November 30th, 2015
BUILD attended the Health Services Cost Review Commission meeting on November 18 to show its support for the 1000 Jobs Proposal created by seven area hospitals.  One-quarter of one percent in a hospital reimbursement rate would fund these 1000 primarily health care outreach worker jobs in distressed areas across Maryland, mostly in Baltimore City.  The HSCRC staff recommended against the rate increase (click here for more info), but BUILD testified to the importance of the jobs to both improve city residents' health and to address the entrenched poverty at the root of April's unrest.
Read more here: Funding in jeopardy for 1,000 new jobs
Posted in News | No Comments »
November 3rd, 2015
BUILD attempted today, November 3, 2015, to get a meeting scheduled with CareFirst CEO Mr. Chet Burrell to discuss the 1000 Jobs plan put forth by seven area hospitals.  Security at the building refused entrance to a group of five people and to deliver the request for a meeting to Mr. Burrell.  Click here for more details and Q&A about the specifics of the plan, as well as why we want to meet with the CEO of CareFirst.  News coverage from the Sun here and the Baltimore Business Journal here.
Posted in News | No Comments »
November 2nd, 2015
BUILD Calls on CareFirst CEO to Meet to Negotiate 1000 New Jobs
Date: TUESDAY, Nov. 3rd, 2015 Time: 10:45 AM
Where: CareFirst Headquarters, 1501 Clinton Street, Baltimore MD
Press alert: 11-3-15 BUILD Press Alert Care First 1000 Jobs
Posted in News | No Comments »
October 30th, 2015
About 400 people attended Thursday night's action at Zion Baptist church to celebrate progress, move toward change, and challenge barriers to BUILDing One Baltimore: A City with Jobs, A City for Youth, A City that's Safe, and a City that Votes. ABC2 News covered the action and interviewed Clergy Co-Chair Glenna Reed:
Posted in News | No Comments »
October 15th, 2015
Davis Confirmation Hearing Press Handout2
Posted in News | No Comments »
August 23rd, 2015
Article by BUILD clergy co-chair Rev Andrew Foster Connors: http://www.christiancentury.org/article/2015-08/building-baltimore.
Posted in News | No Comments »
August 23rd, 2015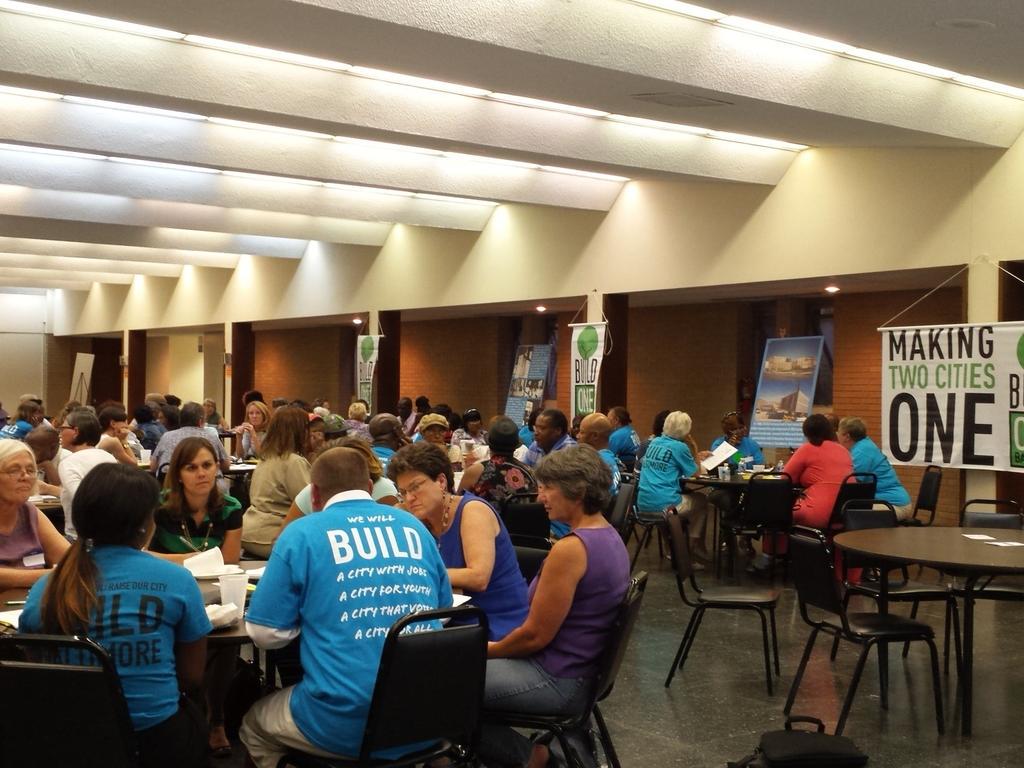 Nearly 100 people attended BUILD's strategy session on July 23 at St Matthew's Church, to learn how to get people at their organizations/institutions involved in the BUILD OneBaltimore Campaign. BUILD OneBaltimore will hold 2016 candidates for Mayor and municipal elections and elected officials accountable to: organize employers to create high quality job opportunities for all citizens, create equitable & adequate policing in all neighborhoods across the city, and to Work with elected officials and corporate leaders to increase youth opportunities by expanding after school, community school and recreation programs.
Attendees also got voter registration training and are certified to register residents to vote!
Posted in News | No Comments »
« Older Entries