August 23rd, 2015
Article by BUILD clergy co-chair Rev Andrew Foster Connors: http://www.christiancentury.org/article/2015-08/building-baltimore.
Posted in News | No Comments »
August 23rd, 2015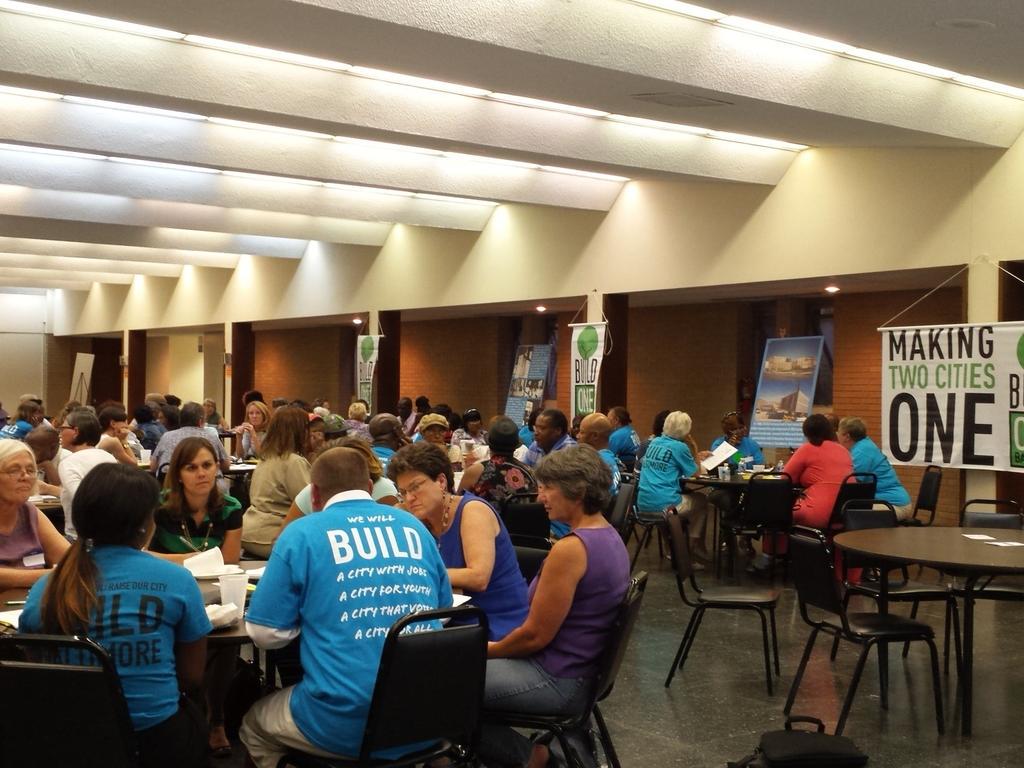 Nearly 100 people attended BUILD's strategy session on July 23 at St Matthew's Church, to learn how to get people at their organizations/institutions involved in the BUILD OneBaltimore Campaign. BUILD OneBaltimore will hold 2016 candidates for Mayor and municipal elections and elected officials accountable to: organize employers to create high quality job opportunities for all citizens, create equitable & adequate policing in all neighborhoods across the city, and to Work with elected officials and corporate leaders to increase youth opportunities by expanding after school, community school and recreation programs.
Attendees also got voter registration training and are certified to register residents to vote!
Posted in News | No Comments »
July 19th, 2015
Metro IAF members David K. Brawley, Otis Moss III, David Benke and Joel Mosbacher urge President Obama and federal agencies to use their purchasing power to influence gun manufacturers.  Read their Op Ed here: http://nyti.ms/1J6dy4U.
Posted in News | No Comments »
July 10th, 2015
"Don't look back – this is a new day – where do we go from here?" –Bishop Douglas Miles, Clergy Co-Chair Emeritus


On Wednesday, July 8, Mayor Stephanie Rawlings-Blake replaced Commissioner Batts by appointing Deputy Commissioner Kevin Davis as Interim Commissioner of Baltimore City Police Department.
See the following for more detail:
BUILD hopes to work with Interim Baltimore Police Commissioner
BUILD issues call to new police commissioner
Posted in News | No Comments »
July 10th, 2015
The BUILD strategy team voted unanimously to call for Commissioner Batts' resignation, an action not taken lightly.  Following the uprising, BUILD met with and made requests a number of times of the police commissioner.  Our biggest request was for a public plan to address the spike in violence (42% increase in murders, shootings almost doubled).  Some arrests did take place at hot spots in a few neighborhoods, but a plan was never announced and the violence continues.   The knowledge that officers were not following their commander is what brought us to the conclusion that waiting to act would be aiding and abetting a dangerous situation.
Read more here.
Posted in News | No Comments »
July 4th, 2015
BUILD One Baltimore – making two cities one – is the theme of BUILD's latest campaign to craft an agenda for the 2016 Mayoral and Municipal elections and to increase employment among city residents in distressed neighborhoods.
Read all about the action  here.
Posted in News | No Comments »
July 1st, 2015
"Baltimore [is] a tale of two cities: A downtown that has been completely redeveloped and uptown communities that have been neglected for years. That's what you're seeing right now, a spillover of really 40 years of benign neglect; of young people who feel they no longer have a stake in the city's future." Bishop Douglas Miles, pastor at Koinonia Baptist Church and BUILD Clergy Co-Chair Emeritus
Following the death of Freddie Gray, BUILD stepped up its presence in Sandtown-Winchester by going door to door with the No Boundaries Coalition to hear the concerns of residents. In the days of unrest and the weeks following, BUILD listened to over 200 residents over one weekend, led clean-up efforts, and organized community leaders to demand action from Council President Jack Young and Baltimore City Police Commissioner Batts.
More jobs, and constructive opportunities for youth lead residents' concerns in the wake of the unrest.
"The crime problem is a jobs problem." Melvin Wilson, Turnaround Tuesday leader and volunteer
Click on the links to the right to read more.
Posted in News | No Comments »
June 18th, 2015
Please join us on the new date for the BUILD One Baltimore Action:
Date: Monday June 22nd
Time: 6:30 pm Gathering Time
Place: St. Peter Claver Catholic Church
1526 N. Fremont Avenue
Stand with us to aim the city towards action that will BUILD One Baltimore.
Posted in News | No Comments »
March 4th, 2015
Get the details of the proposed $35 million state funding cut to Baltimore City Schools with the BUILD 2015 Education Cuts Presentation, by Rev. Andrew Foster Connors.
Posted in News | No Comments »
March 4th, 2015
BUILD Leaders Name the Deep Wounds that Cuts to City Schools Would Cause
By BUILD,  Thursday February 19, 2015
When Jessica Ockimey, a single mother of 3 students in Baltimore City, learned about the governor's proposed cuts to Baltimore Ciy Schools, She was "shocked at the enormous effect that these cuts would have on my children, our family finances, and our home life."
Ockimey was speaking to a group of 120 members of Baltimoreans United in Leadership Development (BUILD), who gathered Thursday night at Roland Park Elementary Middle School to get informed and active on the proposed state funding cuts to Baltimore City Schools.
Her son recently moved from a less successful school to Hilton Elementary, where he was given an Individualized Education Plan and extra supports.  He has made so much progress that he is now preparing to transition off of that plan.  But will he stay off it?
The proposed budget cuts for Hilton would be catastrophic," said Danielle Henson, principal of Hilton Elementary.  If these budget cuts go forward, she expects Hilton to have over $100,000 less in the upcoming year.
Henson credited much of the school's success and attractiveness to partnerships that enable the school to offer important programs like the afterschool program that serves Ockimey son with academic support and violin lessons.  With a funding cut, "we'd have to take a closer look at our ability to continue our partnerships," Henson said.  "Our students would be without resources and enrichment opportunities that they wouldn't get (elsewhere)."
Cuts would also increase class size, possibly driving some classes to 50 students or more.  "These [cuts] prevent us from providing a standard of care… These budget cuts keep our students in a position where they are not able to compete globally."  Henson cited the need to meet growing demands for student and school performance.  "With the current curriculum and the common core our students need opportunities and support."
For Jessica Ockimey, this is personal.  "I'm worried that the gains [my son] has achieved in the last few yeas will be undone by these cuts," she says.  She also worries that Hilton will need to discontinue their afterschool program, or require a fee for the program, which she could not afford.  "These services are a necessity to keep my family thriving."
Leaders from faith congregations, schools, neighborhood associations, youth-serving organizations and a job-training program got a thorough presentation on the three proposed cuts (pictured below, available here: BUILD 2015 Education Cuts Presentation), discussed the significance of cuts in small groups, and got a clear call to action.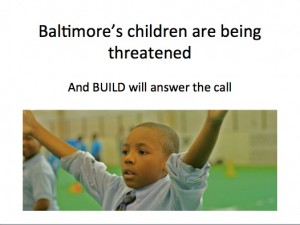 BUILD plans to work to support the Baltimore City delegation in Annapolis, which has united around funding cuts as their top priority issue this session.  The group will also pressure the governor through a consistent presence in Annapolis through the end of the legislative session on April 13, 2015.
Approximately twenty BUILD leaders will lobby in Annapolis tomorrow, and sixty-five leaders – half of those present – pledged to lobby legislators in Annapolis in March.  Other people made pledges to educate friends and family members, and use relationships to reach out to state politicians.
The group also discussed how subsidized development has reduced state support (as it did in an op-ed in the Baltimore Sun Friday, Feb 13).  Clergy Co-chair Andrew Foster Connors explained that BUILD has used subsidies to rebuild East Baltimore.  "We are not against subsidies," he said, but against "developing Baltimore on the backs of our children" by making deals that do not safeguard educational funding.
The group continues to call on the Mayor to convene corporations and developers in Baltimore to make up any remaining cuts to Baltimore schools.
For some, this is déjà vu.
Elizabeth Reichelt, a mother of three students at Roland Park, said "I feel like I am living the movie Groundhog Day."  In 2009, her son was in a class of 31 students when the city faced a proposed $23 million dollar state funding cut.   BUILD formed the Baltimore Education Coalition with the ACLU and other organizations and reversed that cut, as well as reversing or reducing cuts annually in 2010-2012.
Reichelt said she was "stunned and infuriated" when she saw the announcement of the proposed cuts.  "The saving grace in all of this is that we are here together in all of this as BUILD," said Reichelt, who was a leader in these campaigns.  "We have faced a similar challenge in the past and we won then.  We will win again."
Posted in News | No Comments »
« Older Entries