Enrich our Youth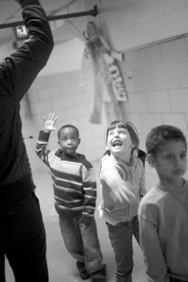 Double funding for after-school programs to $10 million to give young people the chance to learn, play and explore.
Through Child First, BUILD has helped provide more than a thousand young people with after-school enrichment since 1996. Other city programs reach thousands more. It is not enough; every program has waiting lists, some ten schools long. Although national studies show after-school programs increase young people's success in school academics and attendance and prevent youth violence, Baltimore continues to decrease funding for after-school programs each year.
"Child First after-school makes me want to go to school. I learn, have fun, and I know my teacher cares about me."
– Keisha
One principal asked a student, "Where have you been? I have not seen you in my office all spring." The student replied, "I know if I get sent to your office, I won't be able to go to Child First."
We Need Action, Now
BUILD calls on candidates running for elected office and corporate, foundation, and religious leaders to lead, and to join us in our Raise Our Youth/Raise Our City campaign.