November 26th, 2016
"They which built on the wall, and they that bore burdens . . . everyone with one of his hands worked in the work, and with the other hand held a weapon."
The Book of Nehemiah, 4:17
"We will keep Nehemiah very much in mind as we begin to test the tendencies of the new administration. Does it want to be rid of the reproach of bulging and costly prisons and jails? Does it want to end the warehousing of young people charged with minor offenses and those with mental illness? Or does it want to maintain these profoundly anti-American policies and ambush those who seek to reverse them?"
Read more from Rev. David K. Brawley Rabbi Joel Mosbacher Rev. Patrick O'connor Bishop Douglas Miles
http://www.nydailynews.com/opinion/trump-sessions-nehemiah-fateful-choice-ag-article-1.2883971
Posted in News | No Comments »
October 21st, 2016
Council advances Port Covington Deal
Click here to read more! Click here for the MOU.
1100+ affordable homes;
tens of thousands jobs with a 30% percent mandate for local hiring;
$39 million for south Baltimore;
$25 million for workforce development;
$10 million for MWBEs;
$10 million for city-wide initiatives;
$5 million for an East Baltimore recreation center;
$2 million for scholarships
See more detail here: BUILD wins historic deal
Background on BUILD's involvement in Port Covington TIF negotiations: http://www.buildiaf.org/builds-involvement-port-covington-tif/
http://www.baltimoresun.com/news/maryland/baltimore-city/south-baltimore/bs-md-ci-port-covington-work-session-2-20160823-story.html
Posted in News | No Comments »
September 11th, 2016
After a hard fought 16 week campaign and two straight weeks of negotiation with Sagamore Development, BUILD joined Sagamore Development, Plank Industries, Mayor Stephanie Rawlings Blake and Council President Jack Young announced an historic agreement that will shift the development paradigm in Baltimore City. When we started this campaign, the Port Covington TIF's citywide benefits guaranteed only $10 million for the city and 100 youth jobs for five years. By the time we finished, we had mandates for local hiring and affordable housing and a $135 million investment into workforce development, education needs, and more. It will help BUILD's job movement, Turnaround Tuesday, put returning citizens and unemployed residents back to work; leverage funding to rebuild blighted communities like Johnston Square, Harlem Park West, Irvington, and many others; and provide recreation, after school programming and youth opportunities across the city. Has everything we went to the table to negotiate been won? No, but significant steps have been taken that create a new development paradigm for Baltimore City. We have a long way to go, but this is an historic start.
http://www.wbal.com/article/187982/124/port-covington-developers-reach-deal-with-city-on-community-benefits
Posted in News | No Comments »
August 17th, 2016
BUILD recognizes Council President Jack Young for encouraging Sagamore Development to reach agreements with us and with labor before the TIF deal is approved.  BUILD wants better – demands Council not move forward until agreements are reached!
"All we have to do is to sit down and negotiate a deal that works for them and works for the city of Baltimore," said the Rev. Andrew Foster Connors, BUILD's co-chairman.
http://thedailyrecord.com/2016/08/04/jack-young-sagamore-labor-agreement/
http://www.baltimoresun.com/news/maryland/politics/blog/bal-young-urges-sagamore-to-cut-deals-with-unions-build-on-port-covington-tif-20160803-story.html
Posted in News | No Comments »
August 3rd, 2016
Port Covington TIF
BUILD & Labor delay vote — Read about the third-largest TIF request in the nation and BUILD's demands here.
BUILD, along with Port3 labor groups, successfully delayed the Taxation and Finance Committee vote on the Port Covington TIF.  Hundreds packed the War Memorial Building room after waiting nearly an hour outside in the heat for the committee to move the hearing to the initially advertised larger space in the building.  Holding signs that read "Stand Up," "BUILD One Baltimore," "Protect OUR House," and "Build It Together," BUILD members cheered its speakers' demands for a community agreement that benefits the WHOLE city, not just a portion, as well commitments (not just goals) for affordable housing, 51% local hiring (all jobs), profit sharing, and protection of education funding for the duration of the TIF.  Read more here from Good Jobs Baltimore.  See media coverage here and here.
Posted in News | No Comments »
August 3rd, 2016
On July 18, BUILD packed the Zion Lutheran Church to hear testimony from Tischler-Bise and Good Jobs Baltimore advocate Greg LeRoy.  Attendees thundered their approval of BUILD's demands for a city-wide community benefits agreement and for the City to conduct its own independent financial analysis.
Read coverage from multiple outlets below:
Baltimore Sun, Baltimore Brew, WBAL TV
Posted in News | No Comments »
July 13th, 2016
Tuesday, July 12, 2016
BUILD held a press conference in front of UnderArmour Headquarters to call on CEO Kevin Plank to meet with BUILD to negotiate mandates that will ensure the Port Covington development will benefit the ENTIRE city.  BUILD calls on the City Council, Sagamore development, and Mr. Plank to NOT agree to any city-wide benefits agreement without the City conducting a comprehensive independent analysis of the deal.  Any agreement must treat the City of Baltimore as a 'first in' investor with a specified ROI on the TIF investment, including a share of all profit on the project, 51% local hiring on all jobs with clawbacks, an equal investment in affordable housing & blighted neighborhoods, and a written guarantee to hold education funding harmless for the udration of the TIF." Full press coverage is available below, and BUILD's press release can be read here.
Baltimore Sun – pdf version; Press Reader version
Baltimore Business Journal Real Estate Blog
WBAL Radio C4 Show Interview with Clergy Co-Chair Rev Glenna Huber
Posted in News | No Comments »
June 23rd, 2016
Tuesday, June 21, the Mayor and the Baltimore Police Commissioner announced the padlocking of a business under the "public nuisance" statute.
"The Baltimore City Police Department, local businesses and citizens citywide took action together to close down a notorious drug corner that has plagued our community for generations," said Rev. Andrew Foster Connors, clergy co-chair of BUILD.  Read the Baltimore Sun article here.
Posted in News | No Comments »
June 23rd, 2016
BUILD and Child First Authority, together with the Baltimore City Council, won the restoration of $4.2 million in cuts to after school and community school programs.  These cuts would have meant that programs begun after the unrest in April would be ended – a "one time boost" as the budget director characterized them does little to create lasting supports for traumatized children and does not create lasting change.  The City Council and Mayor's office are continuing to negotiate numbers and programs that will cover the cuts.  Read more here and here.
Posted in News | No Comments »
June 10th, 2016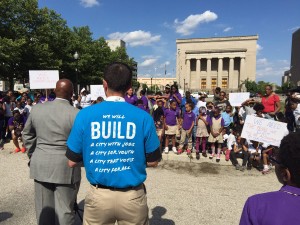 Hundreds of supporters of after school and community school programs gathered in front of City Hall to protest the $4.2 million in cuts to programs that keep children occupied and safe after school.  Read more here: Sun report.
Posted in News | No Comments »
« Older Entries