November 3rd, 2015
BUILD attempted today, November 3, 2015, to get a meeting scheduled with CareFirst CEO Mr. Chet Burrell to discuss the 1000 Jobs plan put forth by seven area hospitals.  Security at the building refused entrance to a group of five people and to deliver the request for a meeting to Mr. Burrell.  Click here for more details and Q&A about the specifics of the plan, as well as why we want to meet with the CEO of CareFirst. 1000 Jobs Q&A
Posted in News | No Comments »
November 2nd, 2015
BUILD Calls on CareFirst CEO to Meet to Negotiate 1000 New Jobs
Date: TUESDAY, Nov. 3rd, 2015 Time: 10:45 AM
Where: CareFirst Headquarters, 1501 Clinton Street, Baltimore MD
Press alert: 11-3-15 BUILD Press Alert Care First 1000 Jobs
Posted in News | No Comments »
October 30th, 2015
About 400 people attended Thursday night's action at Zion Baptist church to celebrate progress, move toward change, and challenge barriers to BUILDing One Baltimore: A City with Jobs, A City for Youth, A City that's Safe, and a City that Votes. ABC2 News covered the action and interviewed Clergy Co-Chair Glenna Reed:
Posted in News | No Comments »
October 15th, 2015
Davis Confirmation Hearing Press Handout2
Posted in News | No Comments »
August 30th, 2015
As of September 1st of this year, Maryland Food Supplement Program (or SNAP/EBT) is transitioning from a 10-day distribution period to a 23-day period. There are many positives involved with this change (store stocks will be more consistent, for example!) but during the 5-month transition. some program participants may find that they have to wait an additional 1-5 days for their benefits to become available on their card. It is very important that we help raise awareness about this transition period and help program participants understand how this transition will affect them and their households. Our Mobile Farmers Market team will be equipped with flyers to share with all of our EBT customers for the next few weeks; please help us spread the word within your communities as well. Additionally, if you know of any emergency food distributors in your communities, please share with me so my team can help direct folks who might need a little help during those extra days without EBT funds during this transition.
Shelley Brosius, Community Market & Outreach Coordinator, rffcommunity@civicworks.com, (443) 531-8346
Posted in News | No Comments »
August 23rd, 2015
Article by BUILD clergy co-chair Rev Andrew Foster Connors: http://www.christiancentury.org/article/2015-08/building-baltimore.
Posted in News | No Comments »
August 23rd, 2015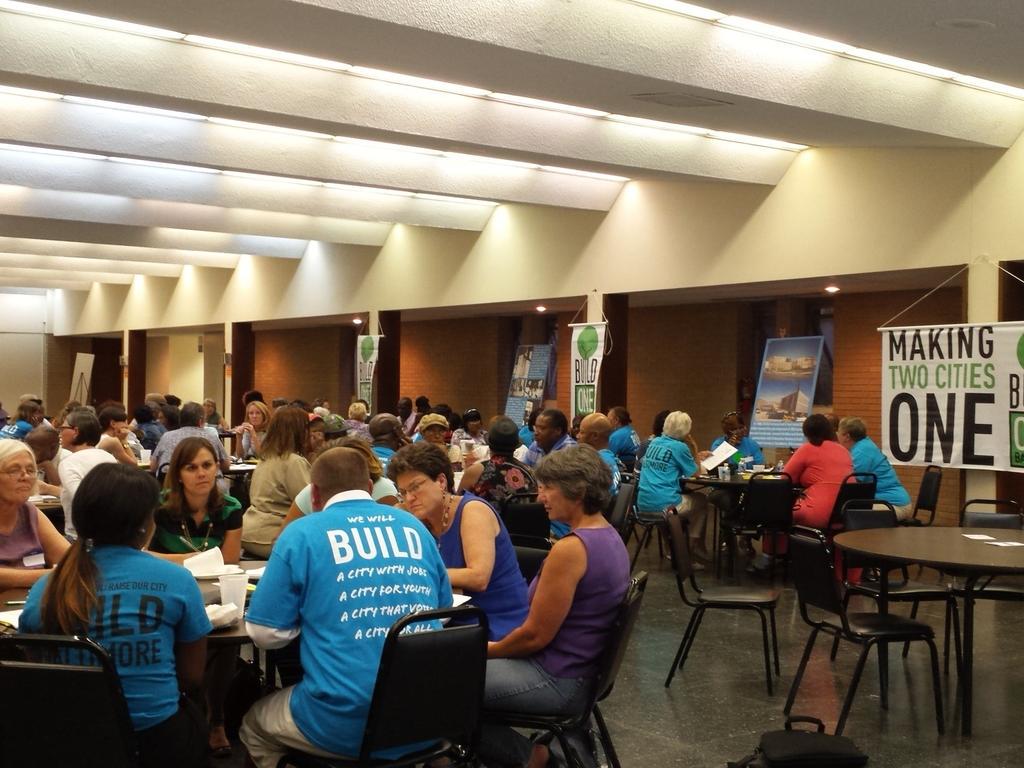 Nearly 100 people attended BUILD's strategy session on July 23 at St Matthew's Church, to learn how to get people at their organizations/institutions involved in the BUILD OneBaltimore Campaign. BUILD OneBaltimore will hold 2016 candidates for Mayor and municipal elections and elected officials accountable to: organize employers to create high quality job opportunities for all citizens, create equitable & adequate policing in all neighborhoods across the city, and to Work with elected officials and corporate leaders to increase youth opportunities by expanding after school, community school and recreation programs.
Attendees also got voter registration training and are certified to register residents to vote!
Posted in News | No Comments »
July 19th, 2015
Metro IAF members David K. Brawley, Otis Moss III, David Benke and Joel Mosbacher urge President Obama and federal agencies to use their purchasing power to influence gun manufacturers.  Read their Op Ed here: http://nyti.ms/1J6dy4U.
Posted in News | No Comments »
July 10th, 2015
"Don't look back – this is a new day – where do we go from here?" –Bishop Douglas Miles, Clergy Co-Chair Emeritus


On Wednesday, July 8, Mayor Stephanie Rawlings-Blake replaced Commissioner Batts by appointing Deputy Commissioner Kevin Davis as Interim Commissioner of Baltimore City Police Department.
See the following for more detail:
BUILD hopes to work with Interim Baltimore Police Commissioner
BUILD issues call to new police commissioner
Posted in News | No Comments »
July 10th, 2015
The BUILD strategy team voted unanimously to call for Commissioner Batts' resignation, an action not taken lightly.  Following the uprising, BUILD met with and made requests a number of times of the police commissioner.  Our biggest request was for a public plan to address the spike in violence (42% increase in murders, shootings almost doubled).  Some arrests did take place at hot spots in a few neighborhoods, but a plan was never announced and the violence continues.   The knowledge that officers were not following their commander is what brought us to the conclusion that waiting to act would be aiding and abetting a dangerous situation.
Read more here.
Posted in News | No Comments »
« Older Entries