June 18th, 2015
Please join us on the new date for the BUILD One Baltimore Action:
Date: Monday June 22nd
Time: 6:30 pm Gathering Time
Place: St. Peter Claver Catholic Church
1526 N. Fremont Avenue
Stand with us to aim the city towards action that will BUILD One Baltimore.
Posted in News | No Comments »
March 4th, 2015
Get the details of the proposed $35 million state funding cut to Baltimore City Schools with the BUILD 2015 Education Cuts Presentation, by Rev. Andrew Foster Connors.
Posted in News | No Comments »
March 4th, 2015
BUILD Leaders Name the Deep Wounds that Cuts to City Schools Would Cause
By BUILD,  Thursday February 19, 2015
When Jessica Ockimey, a single mother of 3 students in Baltimore City, learned about the governor's proposed cuts to Baltimore Ciy Schools, She was "shocked at the enormous effect that these cuts would have on my children, our family finances, and our home life."
Ockimey was speaking to a group of 120 members of Baltimoreans United in Leadership Development (BUILD), who gathered Thursday night at Roland Park Elementary Middle School to get informed and active on the proposed state funding cuts to Baltimore City Schools.
Her son recently moved from a less successful school to Hilton Elementary, where he was given an Individualized Education Plan and extra supports.  He has made so much progress that he is now preparing to transition off of that plan.  But will he stay off it?
The proposed budget cuts for Hilton would be catastrophic," said Danielle Henson, principal of Hilton Elementary.  If these budget cuts go forward, she expects Hilton to have over $100,000 less in the upcoming year.
Henson credited much of the school's success and attractiveness to partnerships that enable the school to offer important programs like the afterschool program that serves Ockimey son with academic support and violin lessons.  With a funding cut, "we'd have to take a closer look at our ability to continue our partnerships," Henson said.  "Our students would be without resources and enrichment opportunities that they wouldn't get (elsewhere)."
Cuts would also increase class size, possibly driving some classes to 50 students or more.  "These [cuts] prevent us from providing a standard of care… These budget cuts keep our students in a position where they are not able to compete globally."  Henson cited the need to meet growing demands for student and school performance.  "With the current curriculum and the common core our students need opportunities and support."
For Jessica Ockimey, this is personal.  "I'm worried that the gains [my son] has achieved in the last few yeas will be undone by these cuts," she says.  She also worries that Hilton will need to discontinue their afterschool program, or require a fee for the program, which she could not afford.  "These services are a necessity to keep my family thriving."
Leaders from faith congregations, schools, neighborhood associations, youth-serving organizations and a job-training program got a thorough presentation on the three proposed cuts (pictured below, available here: BUILD 2015 Education Cuts Presentation), discussed the significance of cuts in small groups, and got a clear call to action.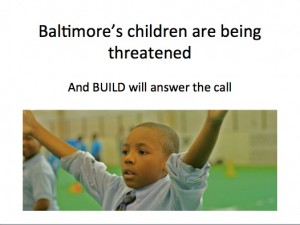 BUILD plans to work to support the Baltimore City delegation in Annapolis, which has united around funding cuts as their top priority issue this session.  The group will also pressure the governor through a consistent presence in Annapolis through the end of the legislative session on April 13, 2015.
Approximately twenty BUILD leaders will lobby in Annapolis tomorrow, and sixty-five leaders – half of those present – pledged to lobby legislators in Annapolis in March.  Other people made pledges to educate friends and family members, and use relationships to reach out to state politicians.
The group also discussed how subsidized development has reduced state support (as it did in an op-ed in the Baltimore Sun Friday, Feb 13).  Clergy Co-chair Andrew Foster Connors explained that BUILD has used subsidies to rebuild East Baltimore.  "We are not against subsidies," he said, but against "developing Baltimore on the backs of our children" by making deals that do not safeguard educational funding.
The group continues to call on the Mayor to convene corporations and developers in Baltimore to make up any remaining cuts to Baltimore schools.
For some, this is déjà vu.
Elizabeth Reichelt, a mother of three students at Roland Park, said "I feel like I am living the movie Groundhog Day."  In 2009, her son was in a class of 31 students when the city faced a proposed $23 million dollar state funding cut.   BUILD formed the Baltimore Education Coalition with the ACLU and other organizations and reversed that cut, as well as reversing or reducing cuts annually in 2010-2012.
Reichelt said she was "stunned and infuriated" when she saw the announcement of the proposed cuts.  "The saving grace in all of this is that we are here together in all of this as BUILD," said Reichelt, who was a leader in these campaigns.  "We have faced a similar challenge in the past and we won then.  We will win again."
Posted in News | No Comments »
March 4th, 2015
Feb 19, 2014 10:17pm
by Colin Campbell
More than 100 of Baltimore's students, parents, teachers and community members on Thursday protested Gov. Larry Hogan's $35 million in proposed budget cuts to city schools.
Baltimoreans United in Leadership Development (BUILD) co-chairman, the Rev. Andrew Foster Connors explained the cuts and referenced a Baltimore Sun report that revealed the school system faces an additional $60 million deficit in next year's budget.
"Our children are being threatened," Connors said…
Read it all here
Posted in News | No Comments »
March 4th, 2015
by Andrew Foster Connors, Glenna Huber, and Douglas Miles
excerpt:
"So let's be clear: the city's waterfront properties and growing tax assessable base from downtown development do result in cuts to city school funding. If our city government didn't give away as much in special deals and tax breaks to developers, then Baltimore City would have more money for public schools."
Read it all here
Posted in News | No Comments »
November 3rd, 2014
The Sun: BUILD Plans Aggressive City Get out the Vote Drive,
and the Afro: 250 BUILD Leaders in Large "Get Out the Vote" Northeast Baltimore Effort
Posted in News | No Comments »
October 31st, 2014
Baltimore, MD, October 30, 2014. Hundreds of leaders of BUILD (Baltimoreans United In Leadership Development) from over 30 congregations and schools will rally Monday night and help get out the vote Monday and Tuesday. The organization is hitting the streets to demand attention for Baltimore from the future governor and to prepare for extensive electoral work around the 2016 elections.
Want to join in?  Call the BUILD office at 401-528-0305 
Want to cover this event?  Great!  Scroll down for a press summary and contacts.
BUILD leaders are concerned that the gubernatorial candidates have paid the city little attention throughout their campaigns. The future governor will have a prominent role in issues important to Baltimore and BUILD, such as education funding, 21st century school construction, and statewide strategies to increase employment. BUILD's response? "BUILD is going door to door, house to house, neighborhood to neighborhood to show that Baltimore votes. Baltimore counts," says St. Matthew's member and BUILD leader Carol Augustine.
"Politicians listen to people that vote – especially groups of people that vote," says the Rev. Andrew Foster Conners, BUILD Clergy Co-Chair, and Pastor of Brown Memorial Presbyterian Church.  "BUILD has seen this consistently." The 37-year old organization has won its largest victories by engaging thousands of voters and gaining commitments from candidates. These victories include 1,200 affordable homes, the first living wage in the country, College Bound Foundation, the Child First Authority, and $1 billion for the construction of 21st century city schools.
Next week's actions are a warm-up for a bigger effort. "Our campaign for the 2016 elections starts now," says the Rev. Glenna Huber, BUILD Clergy Co-Chair.  "We are sending a message to every candidate running for mayor, city council, and state-wide office. BUILD will be a leading force in voter engagement citywide, promoting a strong, resident-driven agenda."
Monday November 3rd at 6pm, over 200 volunteers will gather for interfaith inspiration and training, and then disperse to surrounding Northeast Baltimore precincts. They will remind people to vote and arrange for rides the following day if necessary. Tuesday November 4th, 150 volunteers will door knock, phone bank, and drive voters to the polls.
Summary:
What: Election Eve Rally, followed by Get Out The Vote door to door canvassing Mon. Nov. 3 and Tues. Nov. 4
Who: Hundreds of BUILD leaders from 30+ congregations and school communities throughout Baltimore
When: Nov. 3: Rally 6-6:45pm, followed by GOTV.
Nov. 4: rolling GOTV efforts from 6:30am to 8pm
Where: St. Matthew's Roman Catholic Church, 5401 Loch Raven Blvd, Baltimore, MD, 21239
Why: BUILD members will encourage registered voters to exercise their rights at the polls on Nov. 4, 2014 to show Baltimore counts
Contacts: Ojeda Hall, Lead Organizer, BUILD, 443-253-9338, omhall10@gmail.com
Rev. Glenna Huber, BUILD Clergy Co-Chair, 443-529-7302, urbanpastor@yahoo.com
Fr. Joe Muth, Pastor, St. Matthew's R.C. Church, 443-850-6938, joemuth2848@gmail.com
Posted in News | No Comments »
October 31st, 2014
*Leaders Step Up to Act on Our Agenda!*
*An Invitation to BUILD U – Citizen & Leader training*
*Team inspiration: JOHNSTON SQUARE*
*Upcoming Events*
Click here to Read All About It! 
Posted in News | No Comments »
October 31st, 2014
Story by Danielle Sweeney of the Baltimore Brew, July 30, 2014 at 11:15 am
subtitle: Residents say they've rolled up their sleeves to fix the long-neglected east Baltimore park – city says it's helping, denies foot-dragging
How long does it take to get a park maintenance schedule from Baltimore's Department of Recreation and Parks?
This is not a trick question.
If you are Terrell Williams, an organizer with Baltimoreans United in Leadership Development (BUILD), and the park is Ambrose Kennedy in east Baltimore, apparently, the answer is one year and counting.
get the rest here 
Posted in News | No Comments »
May 16th, 2014
Check out the Washington Post coverage of our recent action as leaders from BUILD (Baltimore City & County) and sister Industrial Areas Foundation organizations PATH (Howard Co.) and AIM (Montgomery Co.) demand a response from gubernatorial candidates to their 5000 person listening campaign.  Click here for the post.
Posted in News | No Comments »
« Older Entries