June 30th, 2017
On June 7, BUILD, along with the No Boundaries Coalition and the Baltimore Youth Organizing Project (BYOP), won the restoration of $2.58 million in cuts to Baltimore City after-school and community school programs.  The BUILD One Baltimore campaign began in 2015 with jobs, safety, and youth program funding demands. Every major Mayoral candidate – including then candidate Pugh – agreed to these demands at the largest Baltimore City mayoral candidate accountability forum in March 2016.
When Mayor Pugh reneged on her promise to retain funding for after-school programs, BYOP, BUILD, and the No Boundaries Coalition confronted the Mayor at a youth-led action attended by hundreds of youth and supportive adults. When she refused to meet demands, we stepped up the pressure by securing unanimous commitment from City Council members to make cuts to the Mayor's budget to force her to restore money to the school budget.
Halfway through the June 7 youth-led hearing before the Council budget committee attended by hundreds, Council President Jack Young announced that negotiations had ended with the Mayor agreeing to restore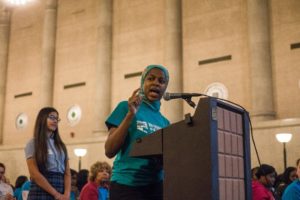 the funding.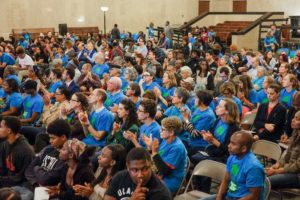 Media coverage here:
http://digitaledition.baltimoresun.com/tribune/article_popover.aspx?guid=91c8ee6e-2037-4439-989e-6a3ff49c7fbe ; http://www.baltimoresun.com/news/opinion/editorial/bs-ed-city-budget-20170606-story.html
https://baltimorebrew.com/2017/06/08/youth-protest-turns-pep-rally-as-council-reaches-budget-deal-with-pugh/
Posted in News | No Comments »